Bike Tour Ljubljana
Join us on a bike adventure through Ljubljana's charming history and nature, exploring the capital of Slovenia in an eco-friendly, active, safe, and fun way.
See all the city highlights in just a few hours
Local English-speaking guides
Easy, slow, and mostly flat rides
Enough breaks to take pictures
Not just a feast for the eyes, but also rich in stories
The Dragon Bridge
See Ljubljana from a bike
Discover Ljubljana's romantic riverbanks
Exploring Ljubljana's natural gems
Stumbling upon hidden backstreets
Discovering Ljubljana on a bike has never been so fun
Biking through Metelkova
Checking out our peaceful parks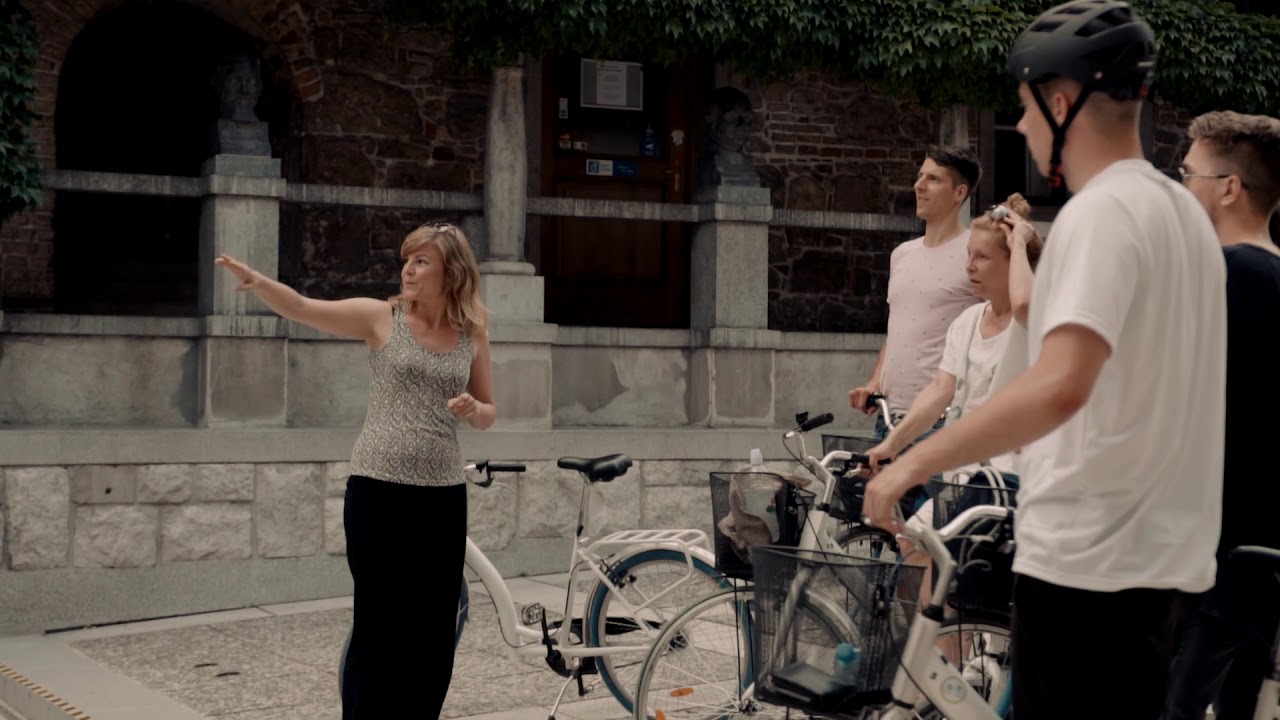 Included in price
Bicycle
Helmet (optional)
Local guide
Drink and local snacks on 4-hour tour
Other information
Sign up is required to reserve your spot.
The tour is conducted in English.
A guided bike tour is perfect to discover the city's unique highlights in an eco-friendly, safe and fun way.
Let a local guide take you on a little adventure and introduce you to the story behind the city in just a few hours!
Ljubljana might not be huge, but it has so much to offer! You won't only get to see the highlights of the city center, but also the secluded parts of the city, romantic riverbanks, hidden backstreets, peaceful parks and much more. We are sure you'll agree that Ljubljana deserved the award for Green Capital of Europe 2016!
A relaxed, vibrant and fun way through the scenic landscape and rich cultural heritage of Ljubljana. Besides beautiful sights, we'll also share intriguing stories of the past, as well as the up-to-date happening of the city.
And if you feel a couple of hours is just not enough for you, jump over to the best cycling holidays Slovenia has to offer!
35€ /per person
Ljubljana Highlights Bike Tour
A shorter version of our most popular bike tour, suitable for those who have less available time. You'll still get to see the main Ljubljana attractions as well as a chance to get active and feel the true vibes of the city.
49€ /per person
Extended Ljubljana Bike Tour
Includes a snack & drinks
Our most popular bike tour takes you on a journey through Ljubljana at an easy pace. Enjoying the main attractions of the city center, romantic riverbanks of Ljubljanica, hidden backstreets, and peaceful paths in Tivoli park — We will take our time and rush nothing, with plenty of time for photos or stretching our legs over ice cream or a glass of lemonade.
Location
Address:
Petkovškovo nabrežje 45, 1000 Ljubljana
Link to Google Maps
I'm happy we chose to see the city on bikes, because you can see so much more and we saw spots out of reach of tourists. My girlfriend has problems with her knee and we were a bit worried if she could bike all that time, but the thing is that the it takes place in the town center and parks with easy and flat trails. So, not to worry, it's really easy riding!
Frequently Asked Questions
2-hour is a shorter version of the tour at 3 PM, we will see Ljubljana center, whereas with the 4-hour tour we take you to the greater area of Ljubljana and we also have a stop by the river Ljubljanica, to freshen up and give some fuel to our bodies for some more cycling 😉 4-hour tour starts at 9 AM.
It is mandatory for children & teenagers up to the age of 18. For everyone older, it's not necessary, but it's recommended.
Yes, of course. Send us an email with your request, if you would like to see something else or you have something particular in mind that you would like to see and we will send you an offer.
If by city center we are talking about Prešeren square, then it takes you roughly 5 minutes to reach the meeting point, which is close by to the Dragon bridge (stay on the Prešeren square side of the river).
Tipping is not customary in Slovenia, therefore not required. However, if you had a great time with our guide, gratuities are gladly accepted.
We recommend booking our bike tour online in advance as we have small groups and limited spots available.